DUE TO COVID-19 PUBLIC HEALTH GUIDELINES, IN-PERSON SERVICES ARE BY REGISTRATION ONLY:
Registration links for the upcoming weekend's service will be sent to our church email list. Our current capacity is limited to 54 people. We also broadcast our Live worship thru zoom. 
SABBATH SCHOOL
Saturdays 9:30-10:00 am | We have classes from infants to adults
SABBATH SCHOOL LESSON
Saturdays 10:00-11:00 am
divine service - Zoom and in-person (by registration only)
Saturdays 11:00 
---
church onlineREGISTRATION:
---
UPCOMING SPEAKERS:
Jan 15 - Pastor Julio Davila
Jan 22 - Pastor Andrew Roque
Jan 29 - Pastor Gordon Miller
SERMON ARCHIEVES:
Jan 22 - tba
Jan 29 - tba
Feb 5 - Tba
---
upcoming calendar events:
---
---
Join us EVERY Wednesday evening at 8pm via Zoom for our Prayer Meeting | email us to get the zoom link

News & AnnouNcements:
31 DAYS OF PRAYER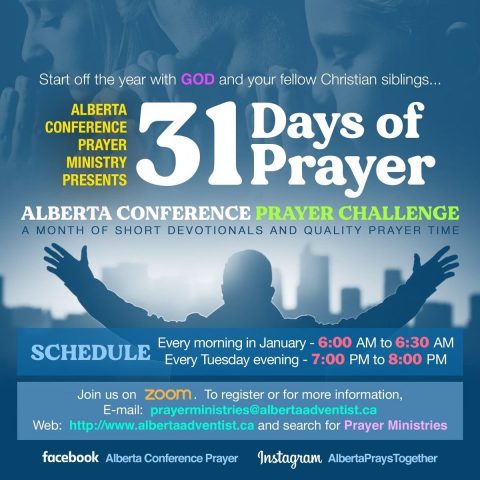 Start off the year with God and your fellow Christian siblings with 31 Days of Prayer from January 1 to 31! From across the Alberta Conference, you are invited to come together for short devotionals and prayer every morning over Zoom from 6 AM to 6:30 AM and every Tuesday evening from 7 PM to 8 PM to kickstart 2022 in a powerful and prayerful way.
Looking forward to praying with you!
Please register to get the link by sending an email to: prayerministries@albertaadventist.ca
---
Master Guide Outdoors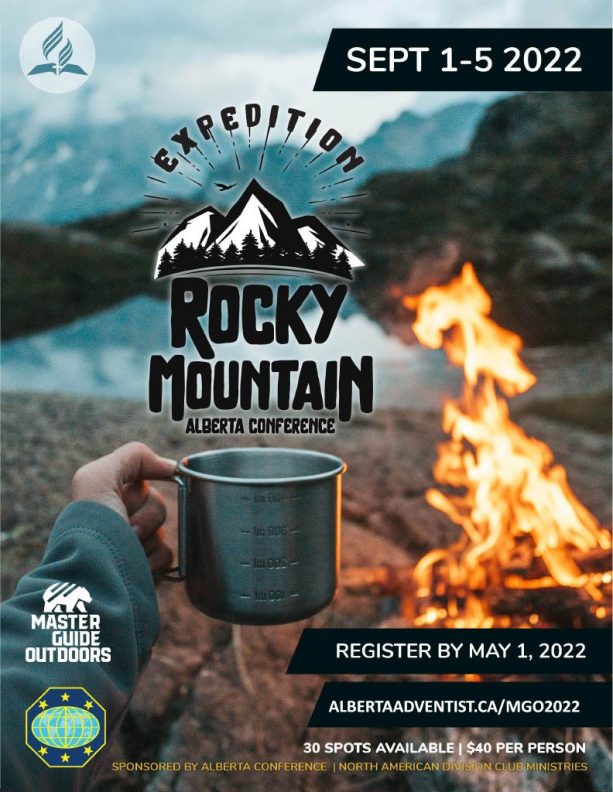 The Alberta Conference Master Guides is excited to host the first-ever MGO expedition! 
Event is open to anyone willing to enjoy the nature, fellowship, and connection with God and friends!